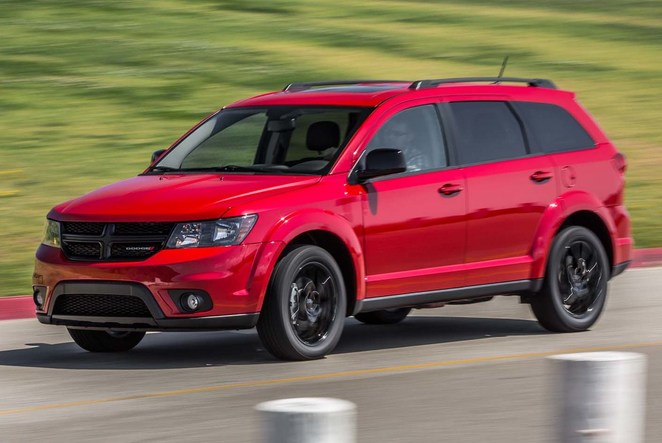 Founded in 1900, Dodge has been making automobiles in the United States for an eye-popping 118 years. During this time, the company has established a wonderful reputation as a brand known for manufacturing high-level products. Car development continues to evolve over time. Dodge hasn't slipped in this category — as many of its newer models feature exciting finishes along with trustworthy metrics. The year 2018 is no different — as the introduction of the Dodger Journey has many excited. This midsize SUV is illustrated with many of Dodge's traditional facets. With that said, modern touches are splattered all over to form a truly dynamic automobile.
The 2018 Dodge Journey boasts four affordable configurations: SE ($22,795), SXT ($25,695), Crossroad ($27,895), and GT ($32,995). Options include zero-percent APR or up to $4,000 in cash allowance. Performance-wise, the vehicle is equipped with a 2.4-L four-cylinder base engine (173 HP). For an upgrade, customers can also procure a 3.6-L V6 option (283 HP).  This vehicle gets approximations of 19 miles-per-gallon in city driving, and 25 miles-per-gallon on the high way. Metrics also having this vehicle having over 500 highway miles per tank. Impressively enough, it can tow anywhere from 1,000 pounds to 2,500 pounds.
As the website says, the 2018 Dodge Journey is fueled by adventure. The car comes available with both all-wheel and front-wheel drive. It makes traveling on tougher terrain much more feasible — whether than means choppy pavement or treacherous, winding roads in mountainous regions. The cabin is very comfortable, particularly for a 7-seat vehicle. Aesthetically, the construction of the interior lends itself to an evolved feel. It certainly isn't outdated by any stretch — but rather functional and clean. Dodge prides itself on having the Journey function as a family-friendly car with much in the way of collective space.  There's about 10.7 cubic-feet of space behind the third row of the vehicle. With one row folded down, this jumps up to 37 cubic-feet. With both of the back rows folded, cargo space skyrockets to 67.6 cubic feet. This is exceptional for those frequently taking trips — or individuals constantly transporting materials.
Standard features for the base model include a push-button start, a 4.3″ touchscreen, one USB port, and a six-speaker audio system. Enhancements — such as a 9″ screen, voice-command capabilities, a security alarm, a DVD player, and a six-speaker premium audio system — can also be had with additional fees.
Safety-wise, the IIHS offered "GOOD" marks to four of its five major safety categories — including roof strength, rear crash protection, side impact, and moderate overlap front. The NHTSA gave 4-star ratings for frontal crash and rollover. Safety measures can be enhanced with alterations in the vehicle. Possible add-ons include rear-parking sensors and a rearview camera.
After a thorough analytics test, there's plenty of value emanating from this car. The 2018 Dodge Journey undoubtedly checks off many of the boxes when searching for a sensible yet functional midsize SUV.
Be sure to check out our sponsored partners' websites to learn more.

Image Source: