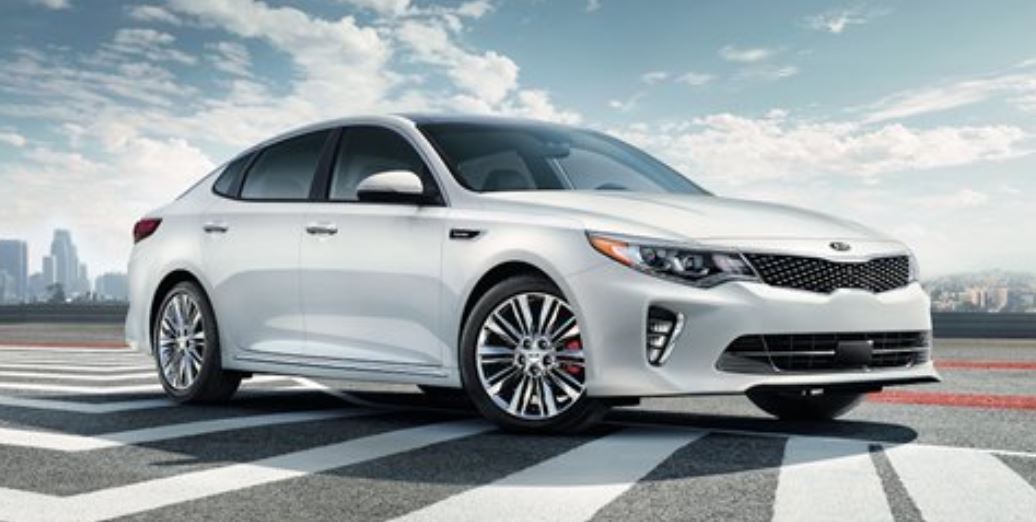 Luxury midsize sedans are all the rage in today's car buying climate. Many people — whether they have families or not — are drawn to these type of vehicles. The comfort, practicality, and overall class has many pining for this model. The 2018 Kia Optima stands out amidst the midsize sedans currently available on the market. Simply put, few competitors are able to match the Optima's impressive overall package from a value standpoint.
Five different models (LX, S, LX 1.6T, EX, SX) are offered. The base LX model begins at an affordable $22,600. On the other end of the spectrum, the most powerful Optima model — the SX — registers at $30,600. From a performance perspective, the 2018 Kia Optima is surprisingly powerful and unequivocally fuel efficient. The compact nature of the vehicle also allows for composure on slick surfaces and windy roadways.
The base model LX gets a combined estimation of 29 miles-per-gallon. Not to be outdone, the LX 1.6T receives an eye-popping 31 miles-per-gallon. In addition, each vehicle has decent acceleration. The SX stands out as the class of this category. Possessing a 2.0-liter turbocharged engine, the SX has 245 HP with 6,000 rpm. It'll take only 6.7 seconds for the SX to reach 60 miles-per-hour. For a non-performance vehicle, this is quite good. The LX, S, and EX all possess engines with 185 HP — whereas the LX 1.6T comes in at a respectable 178 HP. All 2.0-liter and 2.4-liter models come with six-speed automatic transmission.
Aesthetically, the design is much more modern when compared to models of the previous few years. Color options made available include ebony black, aurora black pearl, sangria, silky silver, snow white pearl, horizon blue, titanium silver, sparkling silver, and remington red.
While not unequivocally a family-driven car, there's a lot to like for those possessing a family of three, four, or five. The inside cabin is incredibly spacious. Re-designs have offered more room in the way of leg space and seating arrangement. The front seats are great for taller/larger passengers to comfortably sit. The 2018 Kia Optima surely aimed to create a luxurious and comforting ride for all passengers involved.
Staying with the theme of family, the 2018 Kia Optima is brilliance when it comes to storing equipment. The cargo space offers 15.9 cubic feet — perfect for a trip to the hardware store, packing work materials, gym bags, or even housing your child's cumbersome musical instrument.
Technologically speaking, this vehicle comes equipped with exciting aspects. Models with touchscreen capabilities will also have Apple CarPly and Android Auto. Most come with standard six-speaker systems — though more expensive packages include an elite 10-speaker Harman Kardon system.
A multitude of safety measures makes this car one of the best for the specific category. The 2018 Kia Optima received a perfect five-star rating from the NHTSA (National Highway Traffic Safety Administration) Duly, the IIHS (Insurance Institute for Highway Safety) named the Optima a Top Safety Pick. Unlike previous models, standard safety features now include rear cross traffic alert, rear parking sensors, blind spot monitoring, and a rearview camera. Other perks with more expensive packages may include adaptive cruise control, emergency braking, lane departure warning and a forward collision warning system (among other attributes). In essence, the 2018 Kia Optima would be a perfect vehicle for a young driver to practice with.
Very few midsize sedans match the 2018 Kia Optima when it comes to value. When looking for a spacious, stylish, and safe choice, the Optima has few in the way of peers.

Image Source: Kia Motors