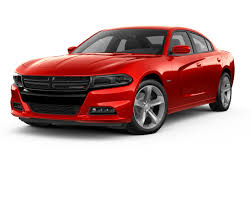 Mid-size cars have arguably developed into the most popular type of vehicle on the current model. There's a real sense of versatility as it pertains to the construction of these cars. For one, they're roomy enough to house a family of five. Secondly, many of the mid-sized options function exceptionally well as commuter cars. As opposed to being crammed into a small cabin, mid-size cars offer the passengers/driver a real sense of comfort. This is particularly useful for a long commute, a road trip, or even a simple drive around town. One company making striking mid-sized vehicles is Dodge. Specifically, the 2019 Dodger Charger is a real jewel within the class.
The 2019 Dodger Charger offers six exciting configurations: the SRT Hellcat ($65,345), Scat Pack ($39,995), SXT AWD ($32,995), R/T ($35,495), SXT ($28,995), and GT ($30,495). The price in parenthesis caters to the approximated starting price for each model. This car offers much more pop and acceleration when compared to the previous year's model. A standard engine includes a 3.6-Liter V-6 with 292 HP. Other options include a 5.7-Liter V-8 (485 HP), a 6.4-Liter V-8, or a eight-speed automatic transmission 6.2-Liter V-8 (707 HP). It truly depends upon the model chosen. Adaptive shock absorbers (found on the R/T, Scat Pack Hellcat) allows the vehicle to reach full acceleration capabilities without overheating. As such, the accompanying torque reserve aids in zooming around sharp curves.
Smaller alterations have been made to the overall appearance of the vehicle. Interestingly enough, it corresponds directly with the improvements in overall performance. An air intake was mounted on the center of the hood. Though prominent, it fits exceptionally well with the bold line work and widened front grille. Brass Monkey/Satin Carbon 20″ forged wheels are a new facet which can be added for additional fees. This increases the sophistication of the vehicle even further.
There have been tweaks made within the inside cabin as well. Multiple models listed above now have the capabilities for heated front seats, heated mirrors, and a heated steering wheel. Intricate stitching now comes on both the doors and the dashboard for any car equipped with leather. From a safety standpoint, options for additional costs include adaptive cruise control, lane departure warning, automatic emergency braking, and forward collision warning.
There's a lot to like about the 2019 Dodge Charger. Prospective customers have their choices of six cars to pick from. Each has its own set of unique traits and characteristics. Duly, the reasonable range of prices enables an inclusive ability to purchase/lease one of these beauties. When factoring in updated aesthetic qualities and performance capabilities, one cannot go wrong with the 2019 Dodge Charger.

Image Sources: Dodge