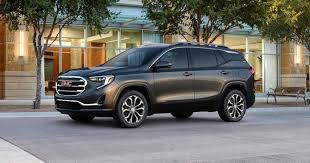 GMC is one of the most popular car manufacturers in the world. A makers of different styles, GMC aims to account for every single customer. When looking at the vast collection of cars under the GMC umbrella, compact SUVs have developed into a very popular option across the country. In particular, the 2018 GMC Terrain offers plenty in the way of value, affordability, performance, aesthetics, and overall class. The entire package will leave any interested party highly intrigued.
The are six configurations within Terrain framework. Per the car's website, prices are as followed: SL ($25,990), SLE ($28,895), SLT ($32,395), SLE Diesel ($32,595), SLT Diesel ($35,195), and Denali ($38,595). Front-wheel drive options begin at $25,990. All-Wheel Drive Terrain vehicles have an MSRP of $30,595. Duly, customers can choose from three different engines. The 1.5-L Turbo engine has 170 HP, 9-speed automatic transmission, a four-cylinder dual overhead cam design, and 203 lb.-ft. of torque. The 1.6-L Turbo option has 6-speed automatic transmission, 137 HP, and 240 lb.-ft. of torque.
Lastly, the impressive 2.0-L Turbo engine has 9-speed automatic transmission, 252 HP, 260 lb.-ft. of torque, Variable Value Timing and direct-injection. In terms of approximations, the Terrain gets toughly 28 miles-per-gallon in city driving, and 39 miles-per-gallon on the highway. The powerful engine options enable the vehicles to tow anywhere from 1,500-to-3,500 pounds.
For a compact SUV, the Terrain is very impressive from an interior cabin standpoint. Many of the touches in general are highly upscale in nature. Adding to the luxurious feel is the considerable amount of space in all rows. The driver and all of the passengers can comfortably ride in what many are calling a quiet cabin. Standard features include cloth upholstery, 4 USB ports, Bluetooth capabilities, a rearview camera, Apple CarPlay and a 7″ touchscreen. There's 29.6 cubic feet of cargo room behind both rows. This respectable number can jump up to 63.3 cubic feet upon folding down the rear seats. Another intriguing trait includes the capability of folding down the passenger seat in the front row. This then enables the driver to have a whopping 81 cubic feet of space.
From a safety standpoint, GMC crafted multiple elements which are available for additional fees. Prospective customers have the ability to purchase low-speed forward automatic braking, blind-spot monitoring, rear-cross traffic alert, rear-parking sensors, automatic park assist, lane-departure warning, and forward-collision alert. The IIHS offered 'GOOD' marks on all five of its major safety categories. Additionally, the NHTSA gave a five-star rating for frontal crash, and four-star marks for rollover, side crash, and overall rating.
As you can see, the 2018 GMC Terrain is a highly intriguing vehicle. There are plenty of facets which help in making this vehicle one of the best compact SUVs currently on the market today.
Be sure to check out our sponsored partners' websites to learn more.
Sources: GMC Terrain, NHTSA, IIHS