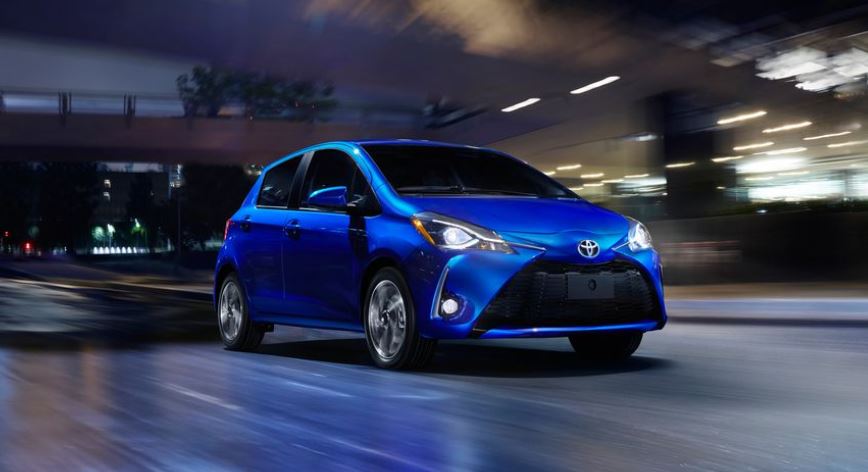 In recent years, the sub-compact car genre has started to gain traction with families, married couples, non-married couples, and singles alike. The tremendous fuel economy — coupled with the affordable prices — makes these sorts of vehicles highly attractive. In 2018, the Toyota Yaris is a prime example of such a car. When fully digesting all it has to offer, there's a ton to like about this striking vehicle.
There are multiple configurations under the Yaris umbrella. Two and four-door options are made available for the L Automatic and the LE. There's also a manual two-door car, an SE Manual, and an SE Automatic. Prices for these vehicles range from $15,635 to $19,060.
The Yaris offers terrific approximations on fuel economy. This vehicle gets roughly 30 miles-per-gallon in city driving, and 36 miles-per-gallon on the highway. A standard 1.5-Liter four-cylinder engine comes with the typical Yaris (106 HP). Both four-speed automatic and five-speed manual transmissions are available depending upon the customer's choice. While this car isn't super powerful in terms of initial acceleration, it steers very smoothly. This is due to its impressive maneuverability and high-class suspension. While long drives on the highway are feasible, the Yaris is very good for city driving.
The physical appearance of the 2018 Yaris can be described as both handsome and clean. Prospective buyers are able to choose from multiple exciting colors: Super White, Classic Silver Metallic, Magnetic Gray Metallic, Black Sand Pearl, and Blue Eclipse Metallic.
Standard interior features include a 6″ touchscreen, a six-speaker stereo system, one USB port, Bluetooth capabilities, a rear-view camera, pre-collision braking, and lane-departure warning. Additional perks include navigation and cruise control.
Though the 2018 Toyota Yaris isn't an overly large car, there's some considerable cargo space for its size (15.6 cubic-feet). Additionally, the cabin space is rather nice when compared to competitors. This is particularly true for the driver of the vehicle. The plushness of the seats is also considered especially comfortable. Furthermore, the refined touch within the interior has the Yaris' overall feel enhanced to new heights.
From a safety standpoint, the 2018 Toyota Yaris received some relatively solid metrics across the board. The IIHS gave the Yaris "GOOD" marks on four of its five major safety ratings categories (moderate overlap front test, side impact test, rear crash test, roof strength test). The NHTSA also gave the 2018 Yaris four-star marks for frontal crash and rollover testing.
When looking for a quality sub-compact car, look no further than the 2018 Toyota Yaris. From fuel economy to safety marks — and everything in between — this vehicle offers tremendous overall value at a very reasonable and affordable price.
Be sure to check out our sponsored partners' websites to learn more.

Image Source: Car & Driver