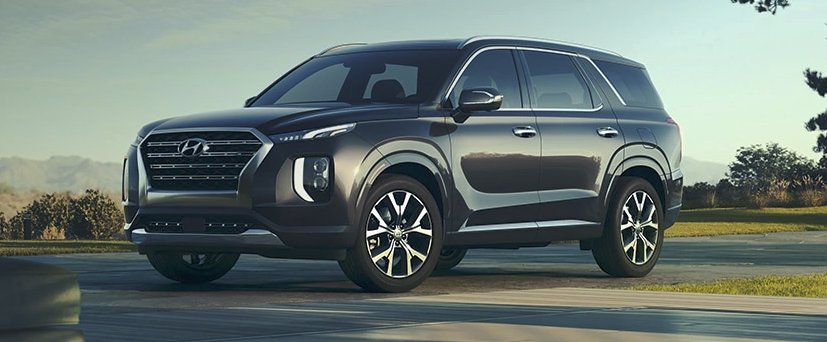 The Hyundai brand has evolved quite rapidly into a very popular entity over the last few years. Along with that, SUV models are flying off the lots in record speed. Hyundai's primary three-row SUV had been the Santa Fe. However as we inch closer to 2020, the manufacturer is ready to debut the Palisade.
This new vehicle is said to redefine the SUV market. It boasts advanced technology, much in the way of personal convenience, and a completely revamped appearance. From a color standpoint, the Palisade will be offered in Hyper White, Lagoon Silver, Steel Graphite, Sierra Burgundy, Moonlight Cloud, Forest Rain, and Becketts Black.
According to recent reports, the base Palisade is slated to have a 3.8-Liter V-6 engine. It's projected to boast an eight-speed automatic transmission with 291 HP and 262 lb.-ft. of torque. Front-wheel drive comes with all base models, and all-wheel drive will be included in enhanced models. For those who enjoy off-roading in snowy conditions, the Palisade will have a 'snow traction' mode.
From an interior standpoint, the car was lengthened three inches longer — thus offering a much more spacious interior when compared to the Santa Fe. The three-row car has third-row power-folding seats. A simple button push will fold them down flat, unfold them, or recline them to the user's specification. The second row will have USB ports as a standard quality in all base models. More expensive models will offer USB ports for the third row.  Additionally, a hands-free Smart Power Liftgate with Auto Open is now something Hyundai has created.
Above everything, the technology within this vehicle is spectacular. The Palisade is equipped with In-car Intercom. This Driver Talk/Quiet Mode will allow for the talking between rows. The audio in the back rows can even be muted in the event that passengers have fallen asleep. This aspect is particularly great for a road trip or impromptu drive. A 10.25″ touchscreen navigation system sits nearly in the middle of the dashboard.  It's a gigantic step up from older models when it comes to elegance and quality.
Lastly, Hyundai has put together a very comprehensive safety package for the Palisade. Among other traits, possible safety measures include Blind-Spot Collision-Avoidance Assist, Rear Cross-Traffic Collision-Avoidance Assist, Safe Exit Assist, and Ultrasonic Rear Occupant Alert with Blue Link Notifications.
The debut of the 2020 Hyundai Palisade is slated for the summer of 2019. As one can see, this crossover SUV is quite an alluring vehicle. Not only is it one rooted in safety and practicality, but it's also a stylish yet powerful machine. What more can one ask for in the ideal SUV?

Image Source: Hyundai