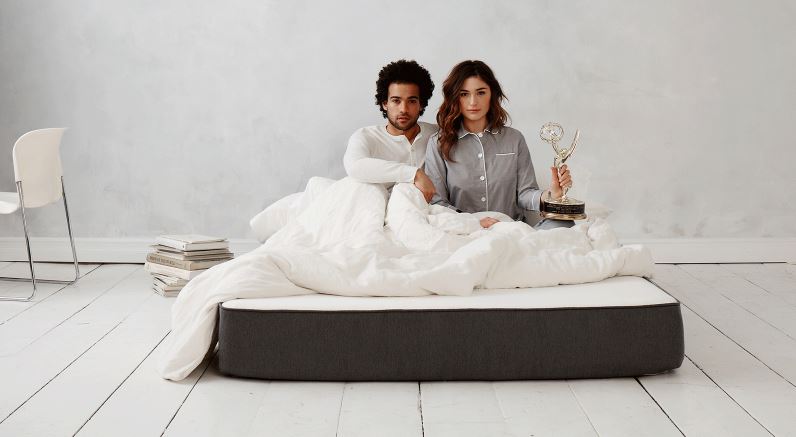 Getting the requisite amount of sleep on a nightly basis is integral for performance the following day. There are a plethora of factors involved in the sleep patterns for any individual. One integral component is the mattress on which you sleep. The comfort of the mattress can be the difference between a groggy morning or a refreshed start to the day.
Here are 5 of the top options currently on the market:
Casper
Since its conception in 2014, Casper has garnered plenty of hype via a creative online campaign, and a concerted effort in marketing across many media platforms. The "coolest" thing about a Casper mattress is that it comes in a box small enough to fit in the back of your car trunk. This isn't a case of loading a cumbersome mattress on the top of your vehicle, nor will it include hiring a delivery service to bring the mattress. Other perks include free shipping, a 10-year warranty, and 100 nights of a trial period. Should you not enjoy the mattress after 100 days, you will be reimbursed your money. There's even a $50 discount using the code SLEEPWELL50. In terms of actual comfort, Casper ranks among the best in its class. The company utilizes four levels of foam within the product itself. Though not a memory foam mattress, it offers an eerily similar feel. The cover on the mattress is light, breathable, and smooth. The initial latex-like foam layer allows for the mattress to stay cool — which is integral for those living in humid climates. A twin mattress starts for as low as $550. One can also purchase a Queen ($950), King ($1,150), and a California King ($1,150).
Amerisleep AS2
The Amerisleep company reigns supreme when it comes to memory foam mattresses. The company features a line of five different mattress models. Fashioned with varying levels of firmness, the goal is to offer a mattress option for every type of sleeper. Amerisleep utilizes a celliant cover. This is significant in a number of ways. Celliant itself is a fiber embedded into the material of the mattress. It's scientifically proven to increase oxygen flow within body tissue — which then allows for a decrease in body aches and pains. It also promotes a more restful slumber. Essentially, the mattress is proving a natural massaging element without any extra cost. The usage of a bio-based foam allows for a cooler mattress base. This eco-friendly option has a 20-year warranty and a 100-day return policy. One can procure an Amerisleep mattress with free shipping. A Queen model can be had for $1,099.
Serta iComfort Savant III Plush
Serta often produces many popular models. This one in particular is comprised of a number of fascinating technological advances. Pairing an extra-thick layer of EverFeel Triple Action Gel Memory Foam with EverCool Plus Memory Foam, it gives the buyer a simply sensational base for sleeping. The goal is to offer the sleeper the most effective method of body regeneration. It's aimed at relieving pressure points, regulating the temperature to a cool setting, and also providing support with body alignment. The Titanium Gel Technology offers much in the way of extra support and coolness. This mattress has a 120-night guarantee and a full 10-year warranty. When replacing your mattress, employees will even discard and recycle your old mattress free of charge.  Options offered include a Twin XL ($1,599), Queen ($1,999), King ($2,599), and a California King ($2,599).
NECTAR
Nectar is a new kid on the block when it comes to mattress production. Don't let the lack of wide-spread prestige fool you…this is a tremendous buy. The 11-inch mattress is composed of three layers — starting with two dissimilar memory foams, followed by a 7-inch base foam. The gel memory foam top layer works wonderfully in extracting heat away from the entirety of the mattress. It also functions as a pressure-reliever for those experiencing back issues. The cover of the Nectar mattress includes a blend of tencel and cotton. Tencel emanates from the Eucalyptus tree — offering a natural, yet breathable material. Nectar's cover policy has plenty of potential buyers excited. If the cover isn't to your liking after a cleaning, one can request a brand-new cover from Nectar — free of charge. This high-density memory foam mattress is excellent when it comes to support. The mattress possesses a grip-like feel — which perfectly wraps around one's body type. From a price standpoint, Nectar offers great bang-for-your-buck. A Twin mattress will set the buyer back $500. There are also affordable pricing options for the Full ($700), Queen ($795), King ($900), and the California King ($900). Shipping is completely free, and one has a 1-year trial period.
Simmons Beautyrest Black
The Blackbeauty rest model is one rooted in luxury and opulence. Simmons opts to use their Advanced Pocketed Coil technology as a means to give the buyer the absolute best in comfort. The triple-stranded coils enable pressure-releasing characteristics and back support. When compared to traditionally-wrapped coils, these improved versions are more durable. The Micro Diamond memory foam counterbalances the act of providing optimal and comprehensive lumbar support. The diamonds themselves help to circumvent heat away from the body in order to form a cool mattress. Traits which further optimize the cooling process include the Ventilated AirCool Beauty Edge and the SurfaceCool Plus Fiber. The use of four foam layers gives the buyer an utterly exquisite base to sleep upon. There is a 10-year warranty policy with the Simmons Beautyrest Black. Within the line, there are 12 options to choose from. As such, the buyer can be meticulous in finding the exact mattress for their needs. The 'Calista' model is the lowest-priced within the line. The Queen set will start at $1,999. On the other end of the spectrum, one can purchase the 'Tatiana' model. A Queen set for this specific option will start at $4,999.
Image Source: yan-can