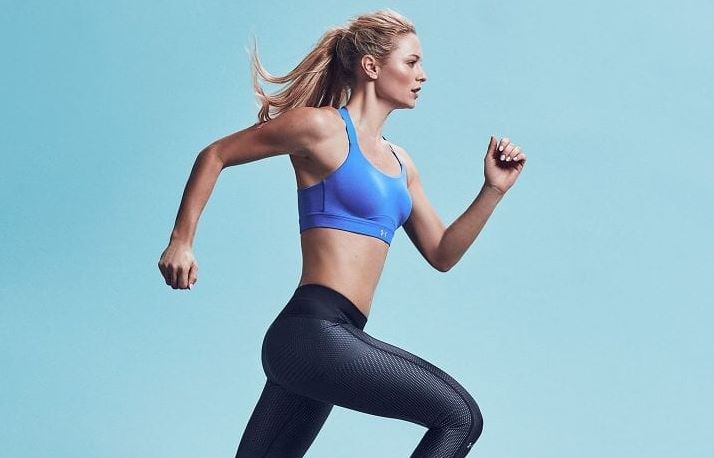 Ladies around the world know the importance in having a quality sports bra. For those instances where one needs a bit more support, these contraptions are both comfortable and reliable — particularly when setting out to exercise or simply lounge around. A high-end sports bra could be the difference between feeling great after a wonderful workout…or simply feeling yucky.
This piece will offer a few options optimal for hiking, yoga, running, or any bit of gym cardio (hello spin class!). These highly regarded bras will also be rooted in style, firmness, comfort, and support.
Old Navy High Support Racerback
Starting at $25, the Old Navy High Support Racerback sports bra is a steal. Old Navy prides itself on crafting extra soft clothing. This sports bra is no different, particularly due to the fact that it has padded shoulder straps.
This added wrinkle is particularly comfortable for those who are forced to wear a sports bra for long periods of time. Specifically, this sports bra was designed to withstand highly physical activity — whether it be spinning, biking, mountain climbing, or running.
The cups have a molded feature which accounts for the bust size. This sort of flexibility isn't seen too often in the average sports bra. When factoring in the relatively lost cost of the product, one can't go wrong with Old Navy's High Sport Racerback.
Champion Spot Comfort Maximum Support
When studying the top sports bra options on the current market, Champion's Spot Comfort Maximum Support is widely regarded as one of the most affordable buys.
At only $20, this piece of equipment is said to be tremendous for those participating in strenuous activity. There are other options north of $70 — or even $100 dollars. This bargain bra is quite impressive when delving into its intricacies.
Champion has created a comfortable product with extra support in the padding. Duly, this prototype has been engineered to minimize sweat as best as possible. The newfound technology mops up any potential dripping (which could get uncomfortable for a number of reasons).
Wacoal Underwire
Multiple rankings indicate that the Wacoal Underwire Sports Bra is the best sports bra currently on the market. Thousands of people have reviewed this bra, and the average star ranking is above 4-stars.
This bra has versatility from the standpoint that the straps can be worn in a normal fashion, or crossed in the back. Exterior underwire offers optimal support for all cup sizes. Similar to the Old Navy product, the Wacoal Underwire option is great for all high-impact sports and activities.
This option — featured in multiple colors — goes for roughly $65.
Image Source: MapMyRun