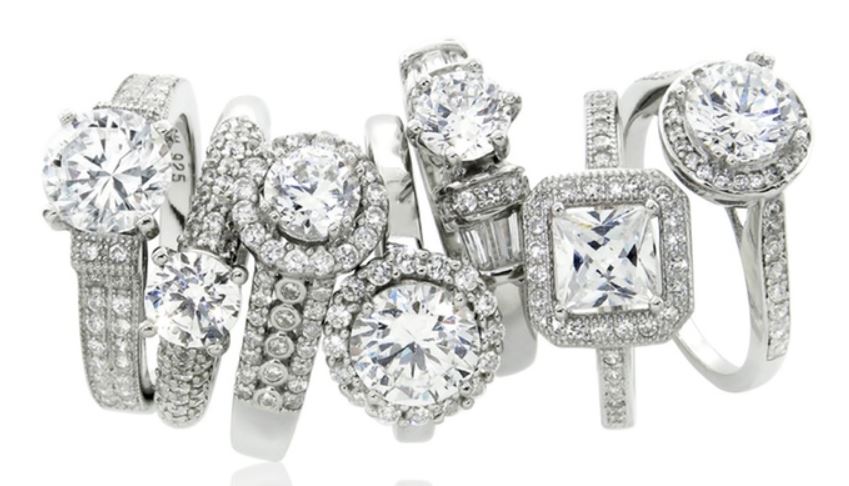 Engagement ring shopping can be a royal pain. For those who know nothing about jewelry, a trip to select an engagement ring can be akin to a nightmare. Confusion can invariably set in. Then there's the panic over spending thousands of dollars on something they might not like. All of these issues can make the experience of traveling to an establishment immensely stressful.
Fear not — as online engagement ring shopping is here to save you! Multiple jewelry outlets and respected stores provide capabilities for those looking to peruse online. There are many benefits to shopping online. For one, the potential buyer is offered a much larger catalog of rings to choose from. As opposed to staring into a glass case at trinkets all looking the same, online stores break down rings categorically (based upon size, color, cut, and price).
Online establishments — such as James Allen, Whiteflash, Blue Nile, Robbins Brothers, and Ritani — also enable purchasers to buy loose diamonds in addition to full sets. The pre-set ring is convenient when wanting to quickly gift it to someone. However, opting for a loose diamond also has its advantages. The recipient of the stone can design the ring themselves. Additionally, the buyer can view the entire loose diamond in its entirety rather than one placed within a ring already.
This sort of flexibility — whether pre-set or loose — is not often seen in stores. Online establishments offer a grander collection of these items. When compared to in-person stores, online establishments generally offer cheaper and more affordable options. This is largely due to overhead weighing down highly-expensive stores. The larger selection of stones, rings, and diamonds also aligns perfectly when operating with a budget. There's more wiggle room on prices, and thus more options made available for one's price range.
There are some who enjoy the interpersonal connection with a broker or diamond seller. However, online advancements have worked tirelessly to include significant customer service help. One will easily be able to email, live chat, or call a jeweler to discuss any stone listed on the service's site.
Furthering the glimpse into a potential purchase, James Allen offers a 360-degree, high-definition video for every diamond in its vast collection. If one signs up with a personal account, the interested party is able to zoom in even further on the stone in question. Whiteflash gets very in-depth — as the company utilizes light performance images to detail the symmetry of the stone.
The act of purchasing such a pricey item may scare some. Not to worry — as each of these online companies come fully equipped with return policies, resizing specifics, warranties, and upgrades/buyback options. As an example, Blue Nile offers a 30-day full refund return policy. In addition, the company gives one free resizing within the first year, lifetime warranty and complimentary cleaning, and a diamond buyback program (based upon the stone's current market value at the time of the inquiry).
Buying an engagement ring for a loved one can be a tricky enterprise. However, the tools provided to potential customers through online avenues make the process quick and seamless. With these modern advancements, the experience has never been easier.

Image Source: Groupon