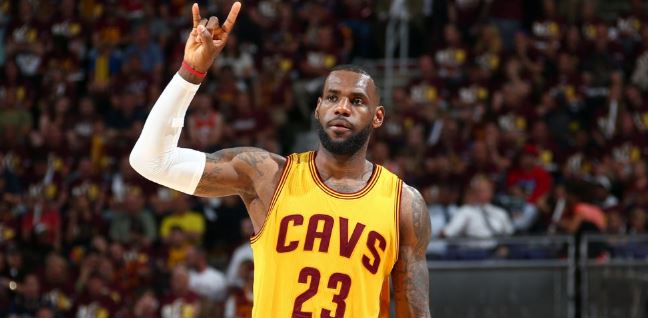 There's no debate when it comes to Michael Jordan's place as the greatest player in NBA history, but much to the chagrin of many basketball fans, the same needs to be said of the No. 2 spot. Kareem Abdul-Jabbar, Magic Johnson, Larry Bird, Kobe Bryant, Tim Duncan, Wilt Chamberlain, Bill Russell and plenty of others have impressive resumes, but none that stack up to LeBron James.
In fact, at only 31 years old, LeBron actually has a leg UP on the greatest of all-time:

The 3-time NBA champion, 3-time Finals MVP, 4-time MVP, 12-time All-Star, 10-time All-NBA First Team selection, 5-time All-Defensive First Team selection and 2-time Olympic gold medalist sits 8th all-time with 28,122 points, 18th with 6,815 assists and 24th with 1,657 steals.
The scariest part of all is that James is nowhere near finished.
The key to fully appreciating and understanding James' legacy lies within his ability to make his teammates better. Much in the way Magic Johnson was viewed as a superstar without being his team's go-to scorer, James' willingness to pass to an open teammate in the most crucial situations runs in stark contrast to players like MJ and Kobe.
James may be wired differently than Jordan, but no single player has ever come as close to controlling the game. With elite athleticism, ridiculous strength, unmatched speed and quickness, a high basketball IQ and the best floor vision in the league, LeBron is physically sculpted to be the best basketball player imaginable.
Critics love to point to James' uninspiring 3-4 record in the NBA Finals as if that's some indication of LeBron's fragile state of mind. It's easy to forget that Michael Jordan, who went a perfect 6-0 in his career in the NBA Finals, needed to wait for the bad-boy Pistons to wither before he ever even carried his Bulls to basketball's biggest stage.
At 23 years old (five years younger than MJ's first trip), LeBron carried a team including Larry Hughes, Zydrunas Ilgauskas, Drew Gooden, Sasha Pavlovic, Donyell Marshall, Anderson Varejao, Damon Jones, Daniel Gibson, Eric Snow, Shannon Brown, Ira Newble, David Wesley, Scot Pollard and Dwyane Jones to the NBA Finals. Aside from James, the rest of that 2007 Cavs roster combined for a total of two All-Star selections in their respective careers (both courtesy of Ilgauskas).
Since then, James hasn't exactly been spectacular in every NBA Finals (there's no justification for his 2011 performance against the Mavericks), but his ability to carry less talented teams is unprecedented.
His crowning achievement came this past year against the 73-9 Golden State Warriors, helping his hometown Cavaliers break a 52-year title drought. James became the first player in NBA history to lead all players in points, rebounds, assists, steals and blocks over the course of an entire NBA Finals series – the kind of achievement that should wipe away any claims of failing to show up in the biggest moments.
Having reached each of the past six NBA Finals and looking primed for a seventh straight, LeBron has already secured his place as the second best player in NBA history. Now only 31 years old with plenty more Hall of Fame-worthy basketball left in him, LeBron is just distancing himself from Kareem Abdul-Jabbar, Magic Johnson, Larry Bird, Kobe Bryant, Tim Duncan, Wilt Chamberlain, Bill Russell and whoever else you consider the third greatest player in NBA history.
Image Source: Outkick The Coverage